Long-term clinical and cost-effectiveness of collaborative care (vs. usual care): a cluster-randomised trial
Chew-Graham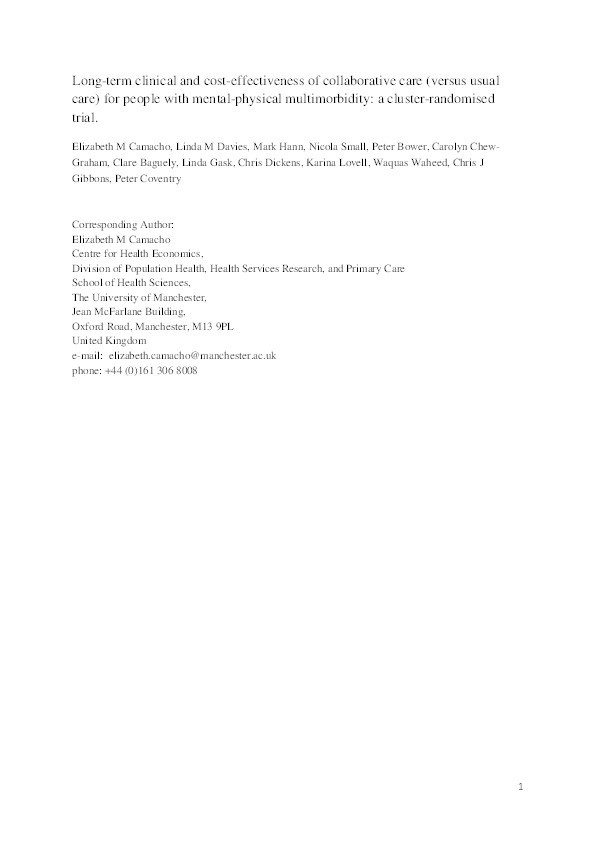 Authors
Abstract
Background
Collaborative care can support the treatment of depression in people with long-term conditions, but long-term benefits and costs are unknown.

Aims
To explore the long-term (24-month) effectiveness and cost-effectiveness of collaborative care in people with mental-physical multimorbidity.

Method
A cluster randomised trial compared collaborative care (integrated physical and mental healthcare) with usual care for depression alongside diabetes and/or coronary heart disease. Depression symptoms were measured by the symptom checklist-depression scale (SCL-D13). The economic evaluation was from the perspective of the English National Health Service.

Results
191 participants were allocated to collaborative care and 196 to usual care. At 24 months, the mean SCL-D13 score was 0.27 (95% CI, -0.48 to -0.06) lower in the collaborative care group alongside a gain of 0.14 (95% CI, 0.06-0.21) quality-adjusted life-years (QALYs). The cost per QALY gained was £13 069.

Conclusions
In the long term, collaborative care reduces depression and is potentially cost-effective at internationally accepted willingness-to-pay thresholds.
Files
You might also like
Downloadable Citations