Hypoxia-modified cancer cell metabolism
Al Tameemi, Wafaa; Dale, Tina P.; Kh Al-Jumaily, Rakad M.; Forsyth, Nicholas R.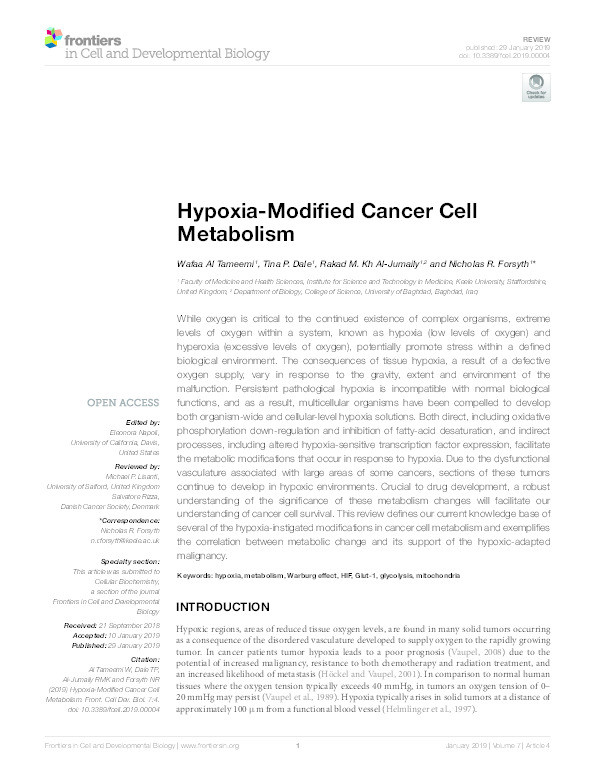 Authors
Abstract
While oxygen is critical to the continued existence of complex organisms, extreme levels of oxygen within a system, known as hypoxia (low levels of oxygen) and hyperoxia (excessive levels of oxygen), potentially promote stress within a defined biological environment. The consequences of tissue hypoxia, a result of a defective oxygen supply, vary in response to the gravity, extent and environment of the malfunction. Persistent pathological hypoxia is incompatible with normal biological functions, and as a result, multicellular organisms have been compelled to develop both organism-wide and cellular-level hypoxia solutions. Both direct, including oxidative phosphorylation down-regulation and inhibition of fatty-acid desaturation, and indirect processes, including altered hypoxia-sensitive transcription factor expression, facilitate the metabolic modifications that occur in response to hypoxia. Due to the dysfunctional vasculature associated with large areas of some cancers, sections of these tumors continue to develop in hypoxic environments. Crucial to drug development, a robust understanding of the significance of these metabolism changes will facilitate our understanding of cancer cell survival. This review defines our current knowledge base of several of the hypoxia-instigated modifications in cancer cell metabolism and exemplifies the correlation between metabolic change and its support of the hypoxic-adapted malignancy.
Files
fcell-07-00004.pdf (2 Mb)
PDF
You might also like
Downloadable Citations