The health profile of football/soccer players in Northern Ireland – a review of the uefa pre-participation medical screening procedure
Heron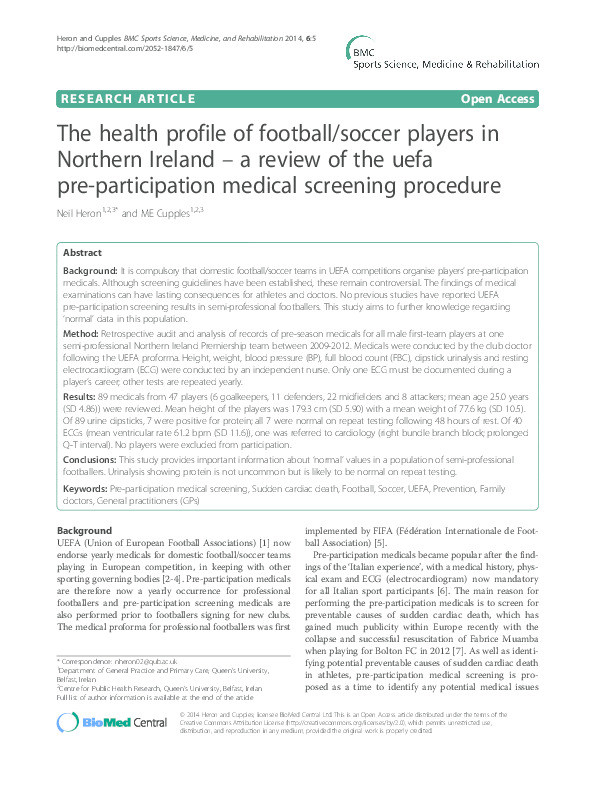 Authors
Abstract
Background
It is compulsory that domestic football/soccer teams in UEFA competitions organise players' pre-participation medicals. Although screening guidelines have been established, these remain controversial. The findings of medical examinations can have lasting consequences for athletes and doctors. No previous studies have reported UEFA pre-participation screening results in semi-professional footballers. This study aims to further knowledge regarding 'normal' data in this population.

Method
Retrospective audit and analysis of records of pre-season medicals for all male first-team players at one semi-professional Northern Ireland Premiership team between 2009-2012. Medicals were conducted by the club doctor following the UEFA proforma. Height, weight, blood pressure (BP), full blood count (FBC), dipstick urinalysis and resting electrocardiogram (ECG) were conducted by an independent nurse. Only one ECG must be documented during a player's career; other tests are repeated yearly.

Results
89 medicals from 47 players (6 goalkeepers, 11 defenders, 22 midfielders and 8 attackers; mean age 25.0 years (SD 4.86)) were reviewed. Mean height of the players was 179.3 cm (SD 5.90) with a mean weight of 77.6 kg (SD 10.5). Of 89 urine dipsticks, 7 were positive for protein; all 7 were normal on repeat testing following 48 hours of rest. Of 40 ECGs (mean ventricular rate 61.2 bpm (SD 11.6)), one was referred to cardiology (right bundle branch block; prolonged Q-T interval). No players were excluded from participation.

Conclusions
This study provides important information about 'normal' values in a population of semi-professional footballers. Urinalysis showing protein is not uncommon but is likely to be normal on repeat testing.
| | |
| --- | --- |
| Acceptance Date | Feb 10, 2014 |
| Publication Date | Feb 13, 2014 |
| Journal | BMC Sports Science, Medicine and Rehabilitation |
| Publisher | Springer Verlag |
| DOI | https://doi.org/10.1186/2052-1847-6-5 |
| Keywords | Pre-participation medical screening, Sudden cardiac death, Football, Soccer, UEFA, Prevention, Family doctors, General practitioners (GPs) |
| Publisher URL | https://doi.org/10.1186/2052-1847-6-5 |
Files
You might also like
Downloadable Citations