The molecular characterisation of Escherichia coli K1 isolated from neonatal nasogastric feeding tubes
Masood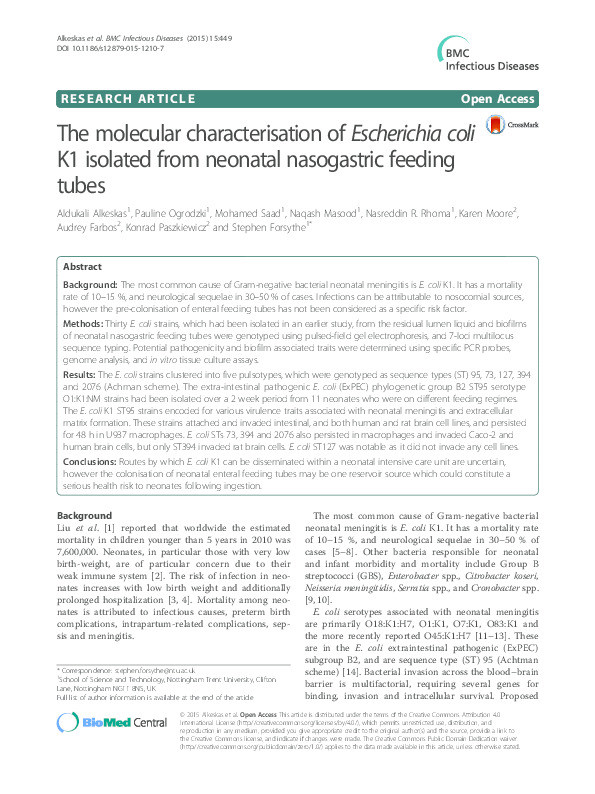 Authors
Abstract
Background
The most common cause of Gram-negative bacterial neonatal meningitis is E. coli K1. It has a mortality rate of 10–15 %, and neurological sequelae in 30–50 % of cases. Infections can be attributable to nosocomial sources, however the pre-colonisation of enteral feeding tubes has not been considered as a specific risk factor.

Methods
Thirty E. coli strains, which had been isolated in an earlier study, from the residual lumen liquid and biofilms of neonatal nasogastric feeding tubes were genotyped using pulsed-field gel electrophoresis, and 7-loci multilocus sequence typing. Potential pathogenicity and biofilm associated traits were determined using specific PCR probes, genome analysis, and in vitro tissue culture assays.

Results
The E. coli strains clustered into five pulsotypes, which were genotyped as sequence types (ST) 95, 73, 127, 394 and 2076 (Achman scheme). The extra-intestinal pathogenic E. coli (ExPEC) phylogenetic group B2 ST95 serotype O1:K1:NM strains had been isolated over a 2 week period from 11 neonates who were on different feeding regimes. The E. coli K1 ST95 strains encoded for various virulence traits associated with neonatal meningitis and extracellular matrix formation. These strains attached and invaded intestinal, and both human and rat brain cell lines, and persisted for 48 h in U937 macrophages. E. coli STs 73, 394 and 2076 also persisted in macrophages and invaded Caco-2 and human brain cells, but only ST394 invaded rat brain cells. E. coli ST127 was notable as it did not invade any cell lines.

Conclusions
Routes by which E. coli K1 can be disseminated within a neonatal intensive care unit are uncertain, however the colonisation of neonatal enteral feeding tubes may be one reservoir source which could constitute a serious health risk to neonates following ingestion.
Files
You might also like
Downloadable Citations