Developing a best practice framework for musculoskeletal outpatient physiotherapy delegation: the MOPeD mixed-methods research study protocol.
Sarigiovannis, Panos; Foster, Nadine E; Jowett, Sue; Saunders, Benjamin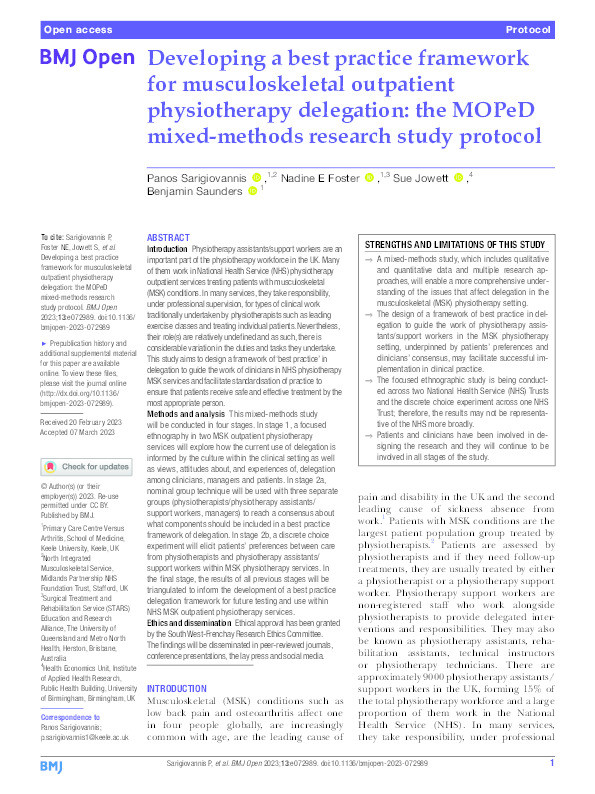 Authors
Abstract
Introduction:
Physiotherapy assistants/support workers are an important part of the physiotherapy workforce in the UK. Many of them work in National Health Service (NHS) physiotherapy outpatient services treating patients with musculoskeletal (MSK) conditions. In many services, they take responsibility, under professional supervision, for types of clinical work traditionally undertaken by physiotherapists such as leading exercise classes and treating individual patients. Nevertheless, their role(s) are relatively undefined and as such, there is considerable variation in the duties and tasks they undertake. This study aims to design a framework of 'best practice' in delegation to guide the work of clinicians in NHS physiotherapy MSK services and facilitate standardisation of practice to ensure that patients receive safe and effective treatment by the most appropriate person.

Methods and analysis:
This mixed-methods study will be conducted in four stages. In stage 1, a focused ethnography in two MSK outpatient physiotherapy services will explore how the current use of delegation is informed by the culture within the clinical setting as well as views, attitudes about, and experiences of, delegation among clinicians, managers and patients. In stage 2a, nominal group technique will be used with three separate groups (physiotherapists/physiotherapy assistants/support workers, managers) to reach a consensus about what components should be included in a best practice framework of delegation. In stage 2b, a discrete choice experiment will elicit patients' preferences between care from physiotherapists and physiotherapy assistants/support workers within MSK physiotherapy services. In the final stage, the results of all previous stages will be triangulated to inform the development of a best practice delegation framework for future testing and use within NHS MSK outpatient physiotherapy services.

Ethics and dissemination:
Ethical approval has been granted by the South West-Frenchay Research Ethics Committee. The findings will be disseminated in peer-reviewed journals, conference presentations, the lay press and social media.
| | |
| --- | --- |
| Journal Article Type | Article |
| Acceptance Date | Mar 7, 2023 |
| Publication Date | Mar 17, 2023 |
| Journal | BMJ Open |
| Publisher | BMJ Publishing Group |
| Volume | 13 |
| Issue | 3 |
| Article Number | e072989 |
| DOI | https://doi.org/10.1136/bmjopen-2023-072989 |
| Keywords | Adult orthopaedics; Musculoskeletal disorders; Health & safety |
| Publisher URL | https://bmjopen.bmj.com/content/13/3/e072989 |
| Additional Information | This is an open access article distributed in accordance with the Creative Commons Attribution 4.0 Unported (CC BY 4.0) license, which permits others to copy, redistribute, remix, transform and build upon this work for any purpose, provided the original work is properly cited, a link to the licence is given, and indication of whether changes were made. See: https://creativecommons.org/licenses/by/4.0/. |
Files
You might also like
Downloadable Citations