Emerging challenges of the impacts of pharmaceuticals on aquatic ecosystems: A diatom perspective.
Kock, A; Glanville, HC; Law, A; Stanton, T; Carter, LJ; Taylor, JC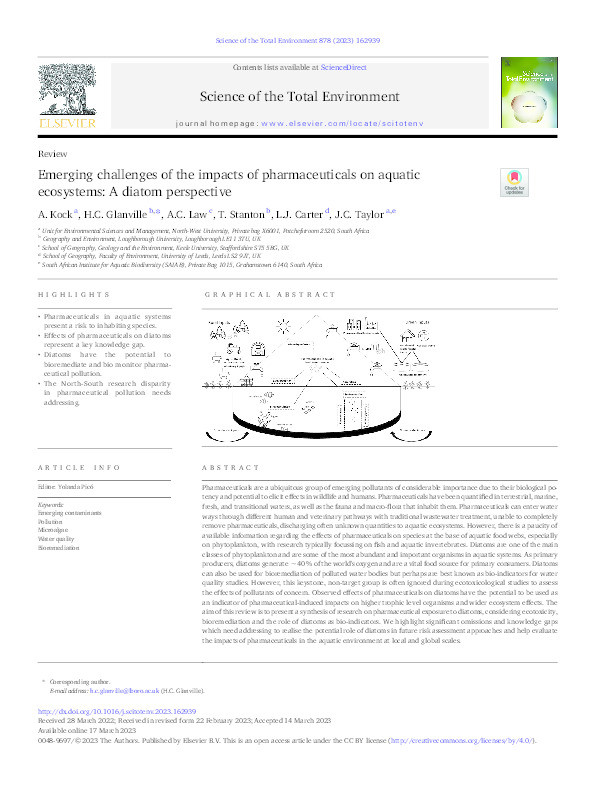 Authors
Abstract
Pharmaceuticals are a ubiquitous group of emerging pollutants of considerable importance due to their biological potency and potential to elicit effects in wildlife and humans. Pharmaceuticals have been quantified in terrestrial, marine, fresh, and transitional waters, as well as the fauna and macro-flora that inhabit them. Pharmaceuticals can enter water ways through different human and veterinary pathways with traditional wastewater treatment, unable to completely remove pharmaceuticals, discharging often unknown quantities to aquatic ecosystems. However, there is a paucity of available information regarding the effects of pharmaceuticals on species at the base of aquatic food webs, especially on phytoplankton, with research typically focussing on fish and aquatic invertebrates. Diatoms are one of the main classes of phytoplankton and are some of the most abundant and important organisms in aquatic systems. As primary producers, diatoms generate ~40 % of the world's oxygen and are a vital food source for primary consumers. Diatoms can also be used for bioremediation of polluted water bodies but perhaps are best known as bio-indicators for water quality studies. However, this keystone, non-target group is often ignored during ecotoxicological studies to assess the effects of pollutants of concern. Observed effects of pharmaceuticals on diatoms have the potential to be used as an indicator of pharmaceutical-induced impacts on higher trophic level organisms and wider ecosystem effects. The aim of this review is to present a synthesis of research on pharmaceutical exposure to diatoms, considering ecotoxicity, bioremediation and the role of diatoms as bio-indicators. We highlight significant omissions and knowledge gaps which need addressing to realise the potential role of diatoms in future risk assessment approaches and help evaluate the impacts of pharmaceuticals in the aquatic environment at local and global scales.
Files
You might also like
Downloadable Citations