"Somebody to Say 'Come On We Can Sort This'": A Qualitative Study of Primary Care Consultation Among Older Adults With Symptomatic Foot Osteoarthritis
Thomas, M; Moore, A; Roddy, E; Peat, G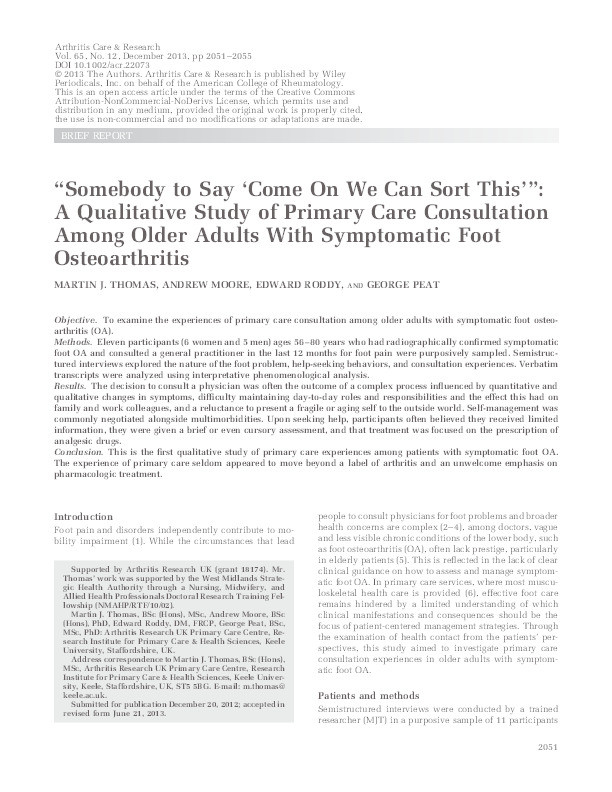 Authors
Abstract
Objective
To examine the experiences of primary care consultation among older adults with symptomatic foot osteoarthritis (OA).

Methods
Eleven participants (6 women and 5 men) ages 56–80 years who had radiographically confirmed symptomatic foot OA and consulted a general practitioner in the last 12 months for foot pain were purposively sampled. Semistructured interviews explored the nature of the foot problem, help-seeking behaviors, and consultation experiences. Verbatim transcripts were analyzed using interpretative phenomenological analysis.

Results
The decision to consult a physician was often the outcome of a complex process influenced by quantitative and qualitative changes in symptoms, difficulty maintaining day-to-day roles and responsibilities and the effect this had on family and work colleagues, and a reluctance to present a fragile or aging self to the outside world. Self-management was commonly negotiated alongside multimorbidities. Upon seeking help, participants often believed they received limited information, they were given a brief or even cursory assessment, and that treatment was focused on the prescription of analgesic drugs.

Conclusion
This is the first qualitative study of primary care experiences among patients with symptomatic foot OA. The experience of primary care seldom appeared to move beyond a label of arthritis and an unwelcome emphasis on pharmacologic treatment.
Files
You might also like
Downloadable Citations