Vertebral fracture as a risk factor for self-harm: a retrospective cohort study
Prior, James A.; Crawford-Manning, Fay; Whittle, Rebecca; Abdul-Sultan, Alyshah; Chew-Graham, Carolyn; Muller, Sara; Shepherd, Tom A.; Sumathipala, Athula; Mallen, Christian D.; Paskins, Zoe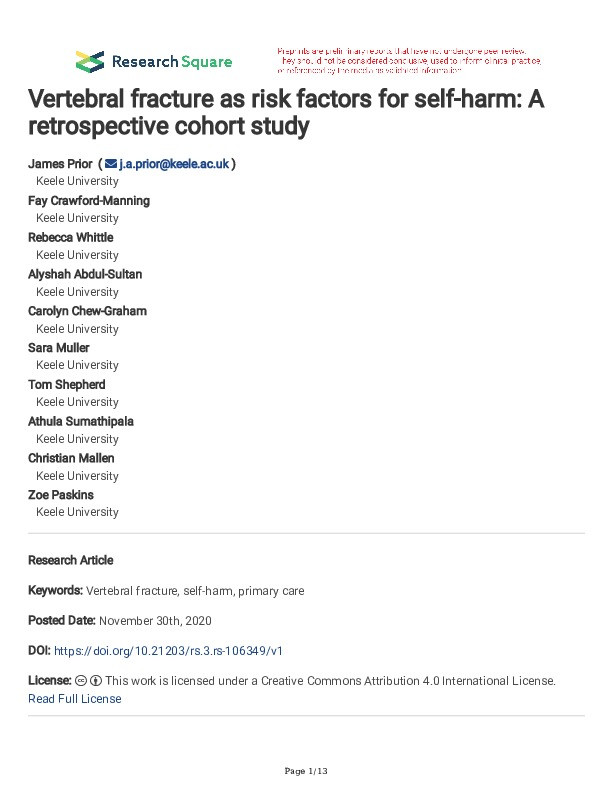 Authors
Abstract
Background
The prevention of self-harm is an international public health priority. It is vital to identify at-risk populations, particularly as self-harm is a risk factor for suicide. This study aims to examine the risk of self-harm in people with vertebral fractures.

Methods
Retrospective cohort study. Patients with vertebral fracture were identified within the Clinical Practice Research Datalink and matched to patients without fracture by sex and age. Incident self-harm was defined by primary care record codes following vertebral fracture. Overall incidence rates (per 10,000 person-years (PY)) were reported. Cox regression analysis determined risk (hazard ratios (HR), 95 % confidence interval (CI)) of self-harm compared to the matched unexposed cohort. Initial crude analysis was subsequently adjusted and stratified by median age and sex.

Results
The number of cases of vertebral fracture was 16,293, with a matched unexposed cohort of the same size. Patients were predominantly female (70.1 %), median age was 76.3 years. Overall incidence of self-harm in the cohort with vertebral fracture was 12.2 (10.1, 14.8) /10,000 PY. There was an initial crude association between vertebral fracture and self-harm, which remained after adjustment (HR 2.4 (95 %CI 1.5, 3.6). Greatest risk of self-harm was found in those with vertebral fractures who were aged below 76.3 years (3.2(1.8, 5.7)) and male (3.9(1.8, 8.5)).

Conclusions
Primary care patients with vertebral fracture are at increased risk of self-harm compared to people without these fractures. Male patients aged below 76 years of age appear to be at greatest risk of self-harm. Clinicians need to be aware of the potential for self-harm in this patient group.
Files
VoR (228 Kb)
PDF
Publisher Licence URL
https://creativecommons.org/licenses/by/4.0/
Copyright Statement
This article is licensed under a Creative Commons Attribution 4.0 International License, which permits use, sharing, adaptation, distribution and reproduction in any medium or format, as long as you give appropriate credit to the original author(s) and the source, provide a link to the Creative Commons licence, and indicate if changes were made. The images or other third party material in this article are included in the article's Creative Commons licence, unless indicated otherwise in a credit line to the material. If material is not included in the article's Creative Commons licence and your intended use is not permitted by statutory regulation or exceeds the permitted use, you will need to obtain permission directly from the copyright holder.
You might also like
Downloadable Citations