Effect of bone marrow mesenchymal stem cells-derived exosomes on diabetes-induced retinal injury: Implication of Wnt/ b-catenin signaling pathway.
Mostafa, O; Sabry, D; Fouly, MAK; Ebrahim, N; El-Halim, HEA; Helal, OK; El-Azab, NE-E; Badr, OAM; Hassouna, A; Saihati, HAA; Aborayah, NH; Emam, HT; El-Wakeel, HS; Aljasir, M; El-Sherbiny, M; Sarg, NAS; Shaker, GA; Forsyth, NR; Elsherbiny, NM; Salim, RF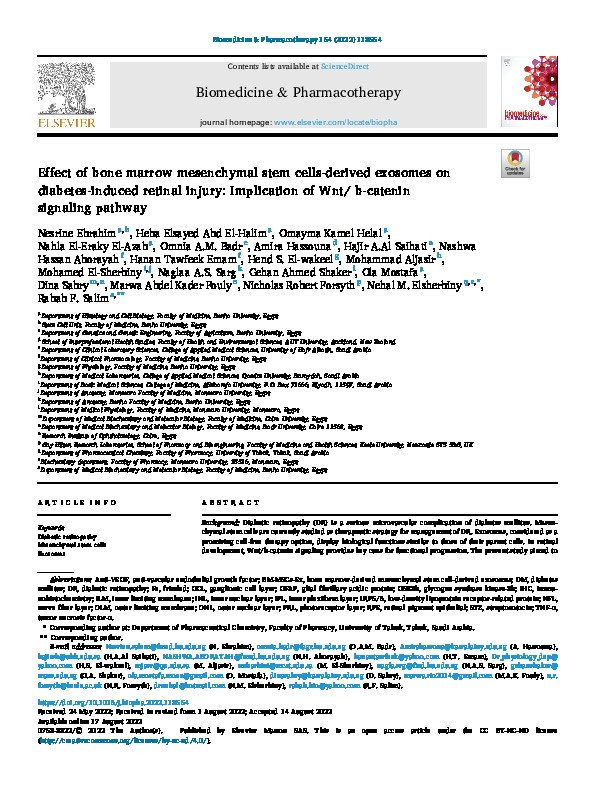 Authors
Abstract
BACKGROUND: Diabetic retinopathy (DR) is a serious microvascular complication of diabetes mellitus. Mesenchymal stem cells are currently studied as therapeutic strategy for management of DR. Exosomes, considered as a promising cell-free therapy option, display biological functions similar to those of their parent cells. In retinal development, Wnt/b-catenin signaling provides key cues for functional progression. The present study aimed to evaluate the potential efficacy of bone marrow-derived mesenchymal stem cell-derived exosomes (BM-MSCs-Ex) in diabetes-induced retinal injury via modulation of the Wnt/ b-catenin signaling pathway. METHODS: Eighty-one rats were allocated into 6 groups (control, DR, DR + DKK1, DR + exosomes, DR + Wnt3a and DR + exosomes+Wnt3a). Evaluation of each group was via histopathological examination, assessment of gene and/or protein expression concerned with oxidative stress (SOD1, SOD2, Nox2, Nox4, iNOS), inflammation (TNF-a, ICAM-1, NF-?B) and angiogenesis (VEGF, VE-cadherin). RESULTS: Results demonstrated that exosomes blocked the wnt/b-catenin pathway in diabetic retina concomitant with significant reduction of features of DR as shown by downregulation of retinal oxidants, upregulation of antioxidant enzymes, suppression of retinal inflammatory and angiogenic markers. These results were further confirmed by histopathological results, fundus examination and optical coherence tomography. Additionally, exosomes ameliorative effects abrogated wnt3a-triggered retinal injury in DR. CONCLUSION: Collectively, these data demonstrated that exosomes ameliorated diabetes-induced retinal injury via suppressing Wnt/ b-catenin signaling with subsequent reduction of oxidative stress, inflammation and angiogenesis.
Files
You might also like
Downloadable Citations