Kepler-432 b: a massive planet in a highly eccentric orbit transiting a red giant
Ciceri, S.; Lillo-Box, J.; Southworth, J.; Mancini, L.; Th. Henning; Barrado, D.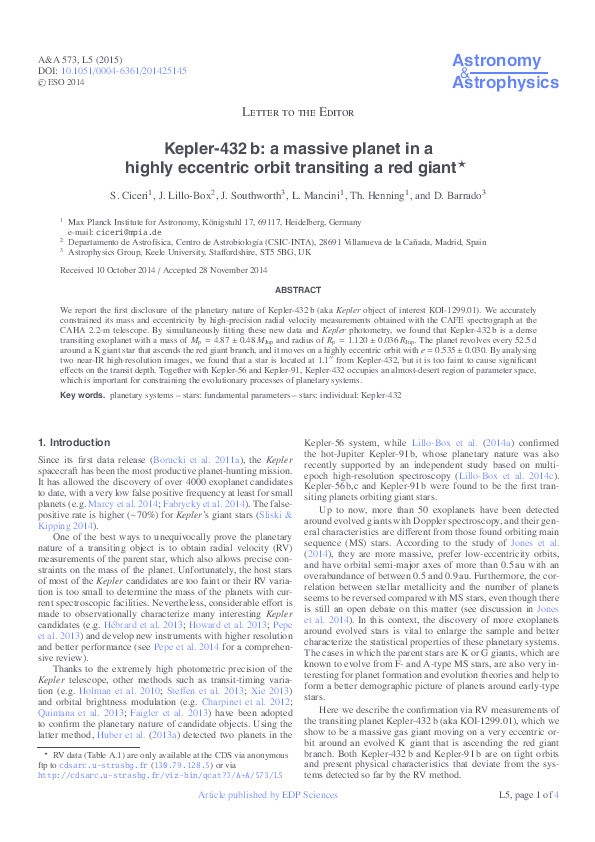 Authors
Abstract
We report the first disclosure of the planetary nature of Kepler-432?b (aka Kepler object of interest KOI-1299.01). We accurately constrained its mass and eccentricity by high-precision radial velocity measurements obtained with the CAFE spectrograph at the CAHA 2.2-m telescope. By simultaneously fitting these new data and Kepler photometry, we found that Kepler-432?b is a dense transiting exoplanet with a mass of Mp = 4.87 ± 0.48MJup and radius of Rp = 1.120 ± 0.036RJup. The planet revolves every 52.5?d around a K giant star that ascends the red giant branch, and it moves on a highly eccentric orbit with e = 0.535 ± 0.030. By analysing two near-IR high-resolution images, we found that a star is located at 1.1'' from Kepler-432, but it is too faint to cause significant effects on the transit depth. Together with Kepler-56 and Kepler-91, Kepler-432 occupies an almost-desert region of parameter space, which is important for constraining the evolutionary processes of planetary systems.
| | |
| --- | --- |
| Journal Article Type | Article |
| Acceptance Date | Nov 28, 2014 |
| Online Publication Date | Dec 22, 2014 |
| Publication Date | 2015-01 |
| Journal | ASTRONOMY & ASTROPHYSICS |
| Print ISSN | 0004-6361 |
| Electronic ISSN | 1432-0746 |
| Publisher | EDP Sciences |
| Peer Reviewed | Peer Reviewed |
| Volume | 573 |
| Article Number | L5 |
| DOI | https://doi.org/10.1051/0004-6361/201425145 |
| Keywords | planetary systems, stars: fundamental parameters, stars: individual: Kepler-432 |
| Publisher URL | https://doi.org/10.1051/0004-6361/201425145 |
Files
You might also like
Downloadable Citations