Inter-professional learning at Keele - physiotherapy student's perceptions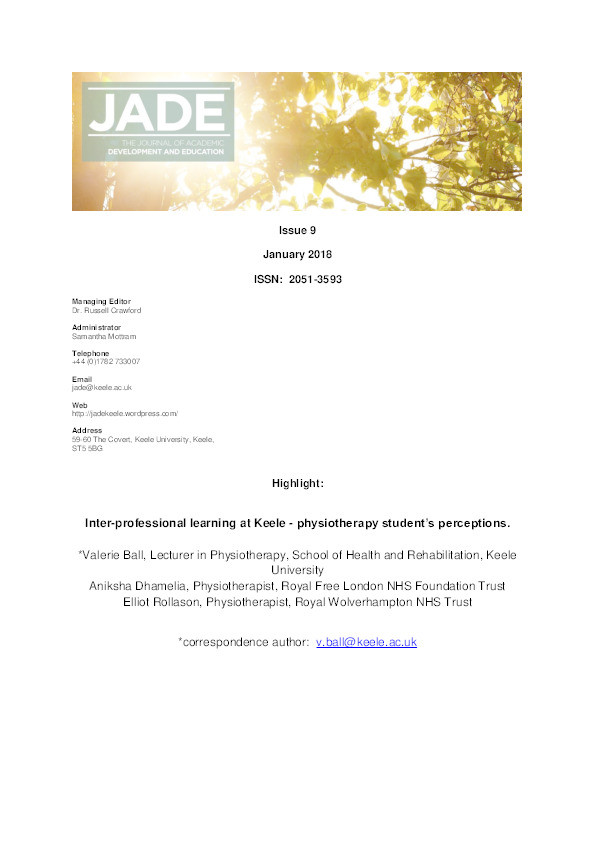 Abstract
Context
The Faculty of Medicine and Health Sciences Year 3 inter-professional education (IPE) programme promotes effective multi-disciplinary team (MDT) working using group work and reflective writing. Student satisfaction monitored in module evaluations had remained static for five years. This small study aimed to look in more depth at the reasons for this.

Method
Two on line focus groups of third year physiotherapy students using a Keele Learning Environment discussion board and a closed Facebook group as means of communication. Data was coded for themes and subthemes.

Results
All participants reported positive experiences of MDT working in clinical practice, and they preferred to learn on clinical placement rather than in classroom based activities. A minority of participants considered writing reflections for IPE was a positive learning process.

Conclusions
The IPE programme does not suit all types of learners and this would account for the static student satisfaction.
Files
JADE 9B- Ball FINAL.pdf (566 Kb)
PDF
Downloadable Citations