Development and validation of broad-spectrum magnetic particle labelling processes for cell therapy manufacturing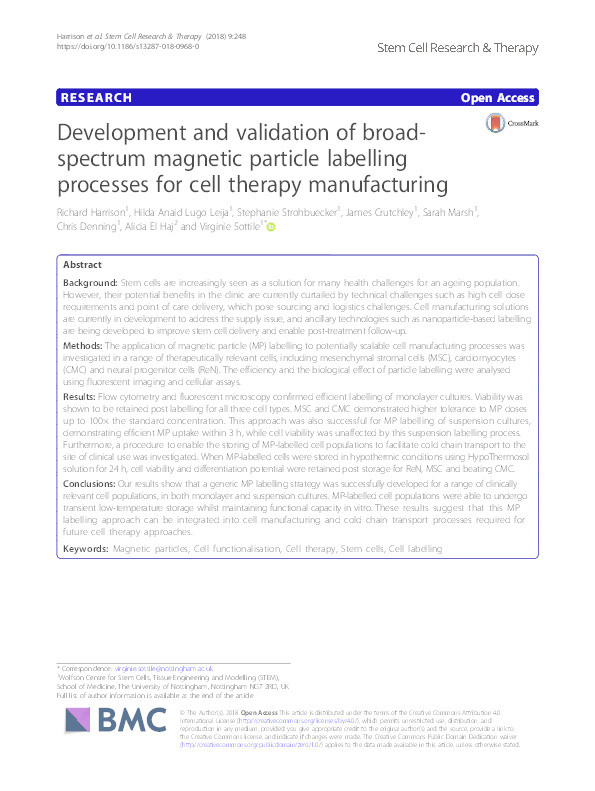 Abstract
Background
Stem cells are increasingly seen as a solution for many health challenges for an ageing population. However, their potential benefits in the clinic are currently curtailed by technical challenges such as high cell dose requirements and point of care delivery, which pose sourcing and logistics challenges. Cell manufacturing solutions are currently in development to address the supply issue, and ancillary technologies such as nanoparticle-based labelling are being developed to improve stem cell delivery and enable post-treatment follow-up.

Methods
The application of magnetic particle (MP) labelling to potentially scalable cell manufacturing processes was investigated in a range of therapeutically relevant cells, including mesenchymal stromal cells (MSC), cardiomyocytes (CMC) and neural progenitor cells (ReN). The efficiency and the biological effect of particle labelling were analysed using fluorescent imaging and cellular assays.

Results
Flow cytometry and fluorescent microscopy confirmed efficient labelling of monolayer cultures. Viability was shown to be retained post labelling for all three cell types. MSC and CMC demonstrated higher tolerance to MP doses up to 100× the standard concentration. This approach was also successful for MP labelling of suspension cultures, demonstrating efficient MP uptake within 3 h, while cell viability was unaffected by this suspension labelling process. Furthermore, a procedure to enable the storing of MP-labelled cell populations to facilitate cold chain transport to the site of clinical use was investigated. When MP-labelled cells were stored in hypothermic conditions using HypoThermosol solution for 24 h, cell viability and differentiation potential were retained post storage for ReN, MSC and beating CMC.

Conclusions
Our results show that a generic MP labelling strategy was successfully developed for a range of clinically relevant cell populations, in both monolayer and suspension cultures. MP-labelled cell populations were able to undergo transient low-temperature storage whilst maintaining functional capacity in vitro. These results suggest that this MP labelling approach can be integrated into cell manufacturing and cold chain transport processes required for future cell therapy approaches.
Files
Downloadable Citations