Molecular tools and genetic markers for the generation of transgenic sexing strains in Anopheline mosquitoes.
Bernardini, Federica; Elaine Haghighat-Khah, Roya; Galizi, Roberto; Marc Hammond, Andrew; Nolan, Tony; Crisanti, Andrea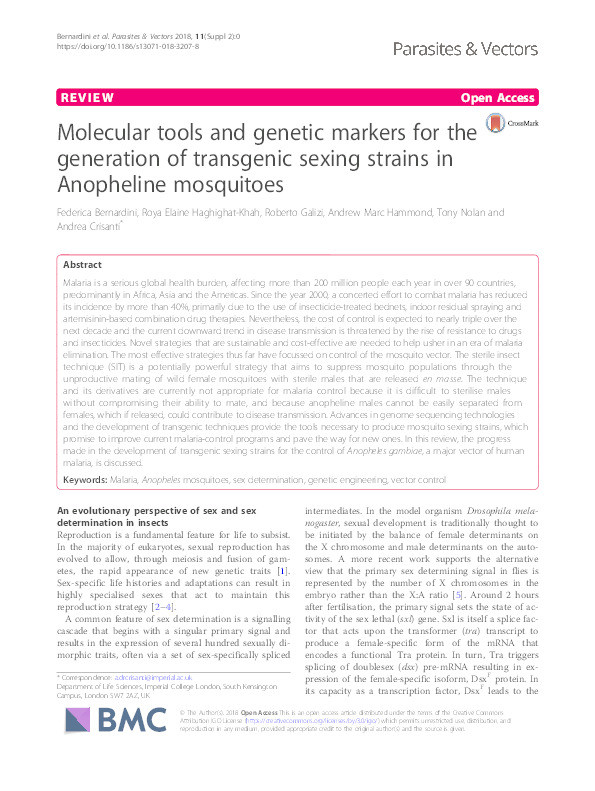 Authors
Roya Elaine Haghighat-Khah
Abstract
Malaria is a serious global health burden, affecting more than 200 million people each year in over 90 countries, predominantly in Africa, Asia and the Americas. Since the year 2000, a concerted effort to combat malaria has reduced its incidence by more than 40%, primarily due to the use of insecticide-treated bednets, indoor residual spraying and artemisinin-based combination drug therapies. Nevertheless, the cost of control is expected to nearly triple over the next decade and the current downward trend in disease transmission is threatened by the rise of resistance to drugs and insecticides. Novel strategies that are sustainable and cost-effective are needed to help usher in an era of malaria elimination. The most effective strategies thus far have focussed on control of the mosquito vector. The sterile insect technique (SIT) is a potentially powerful strategy that aims to suppress mosquito populations through the unproductive mating of wild female mosquitoes with sterile males that are released en masse. The technique and its derivatives are currently not appropriate for malaria control because it is difficult to sterilise males without compromising their ability to mate, and because anopheline males cannot be easily separated from females, which if released, could contribute to disease transmission. Advances in genome sequencing technologies and the development of transgenic techniques provide the tools necessary to produce mosquito sexing strains, which promise to improve current malaria-control programs and pave the way for new ones. In this review, the progress made in the development of transgenic sexing strains for the control of Anopheles gambiae, a major vector of human malaria, is discussed.
Files
You might also like
Downloadable Citations