REDISCUSSION OF ECLIPSING BINARIES. PAPER 10: THE PULSATING B-TYPE SYSTEM V1388 ORIONIS
Southworth, John; Bowman, Dominic M.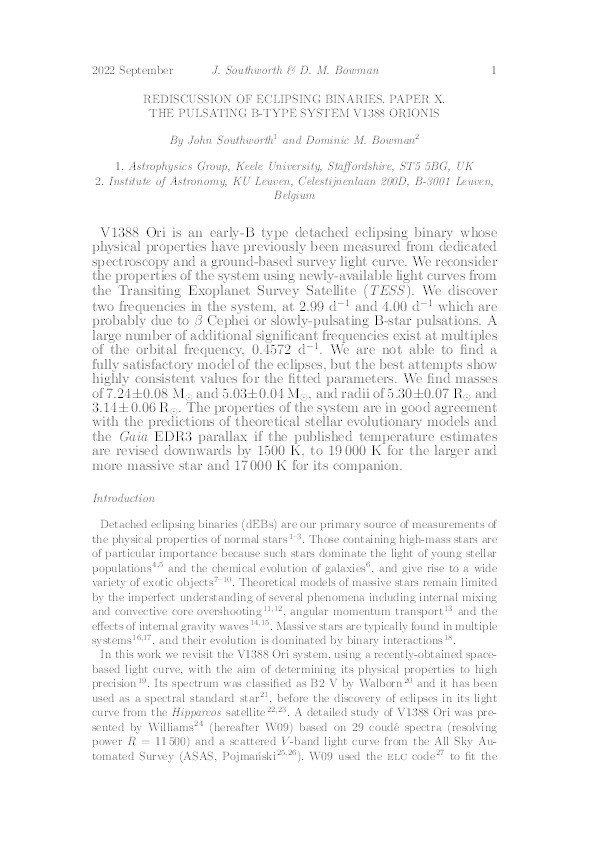 Authors
Abstract
V1388 Ori is an early-B type detached eclipsing binary whose physical properties have previously been measured from dedicated spectroscopy and a ground-based survey light curve. We reconsider the properties of the system using newly-available light curves from the Transiting Exoplanet Survey Satellite (TESS). We discover two frequencies in the system, at 2.99 d-1 and 4.00 d-1 which are probably due to beta Cephei or slowly-pulsating B-star pulsations. A large number of additional significant frequencies exist at multiples of the orbital frequency, 0.4572 d-1. We are not able to find a fully satisfactory model of the eclipses, but the best attempts show highly consistent values for the fitted parameters. We find masses of 7.24 +/- 0.08 Msun and 5.03 +/- 0.04 Msun, and radii of 5.30 +/- 0.07 Rsun and 3.14 +/- 0.06 Rsun. The properties of the system are in good agreement with the predictions of theoretical stellar evolutionary models and the Gaia EDR3 parallax if the published temperature estimates are revised downwards by 1500 K, to 19000 K for the larger and more massive star and 17000 K for its companion.
Files
You might also like
Downloadable Citations