Development of a Digital Lifestyle Modification Intervention for Use after Transient Ischaemic Attack or Minor Stroke: A Person-Based Approach.
Heron, Neil; O'Connor, Seán R.; Kee, Frank; Thompson, David R.; Anderson, Neil; Cutting, David; Cupples, Margaret E.; Donnelly, Michael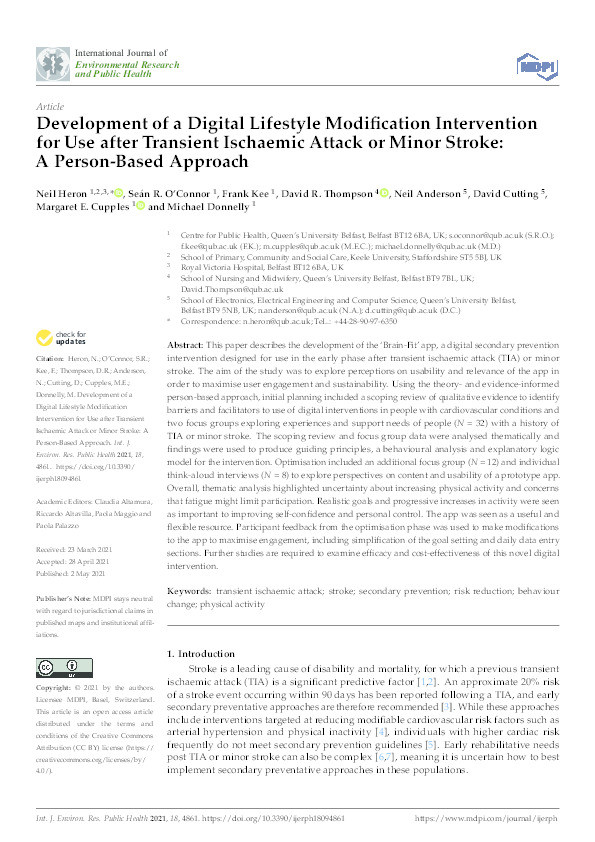 Authors
Abstract
This paper describes the development of the 'Brain-Fit' app, a digital secondary prevention intervention designed for use in the early phase after transient ischaemic attack (TIA) or minor stroke. The aim of the study was to explore perceptions on usability and relevance of the app in order to maximise user engagement and sustainability. Using the theory- and evidence-informed person-based approach, initial planning included a scoping review of qualitative evidence to identify barriers and facilitators to use of digital interventions in people with cardiovascular conditions and two focus groups exploring experiences and support needs of people (N = 32) with a history of TIA or minor stroke. The scoping review and focus group data were analysed thematically and findings were used to produce guiding principles, a behavioural analysis and explanatory logic model for the intervention. Optimisation included an additional focus group (N = 12) and individual think-aloud interviews (N = 8) to explore perspectives on content and usability of a prototype app. Overall, thematic analysis highlighted uncertainty about increasing physical activity and concerns that fatigue might limit participation. Realistic goals and progressive increases in activity were seen as important to improving self-confidence and personal control. The app was seen as a useful and flexible resource. Participant feedback from the optimisation phase was used to make modifications to the app to maximise engagement, including simplification of the goal setting and daily data entry sections. Further studies are required to examine efficacy and cost-effectiveness of this novel digital intervention.
Files
You might also like
Downloadable Citations