Synthesis of C6-modified mannose 1-phosphates and evaluation of derived sugar nucleotides against GDP-mannose dehydrogenase.
Ahmadipour, Sanaz; Wahart, AJC; Dolan, JP; Beswick, Laura; Hawes, CS; Field, RA; Miller, GJ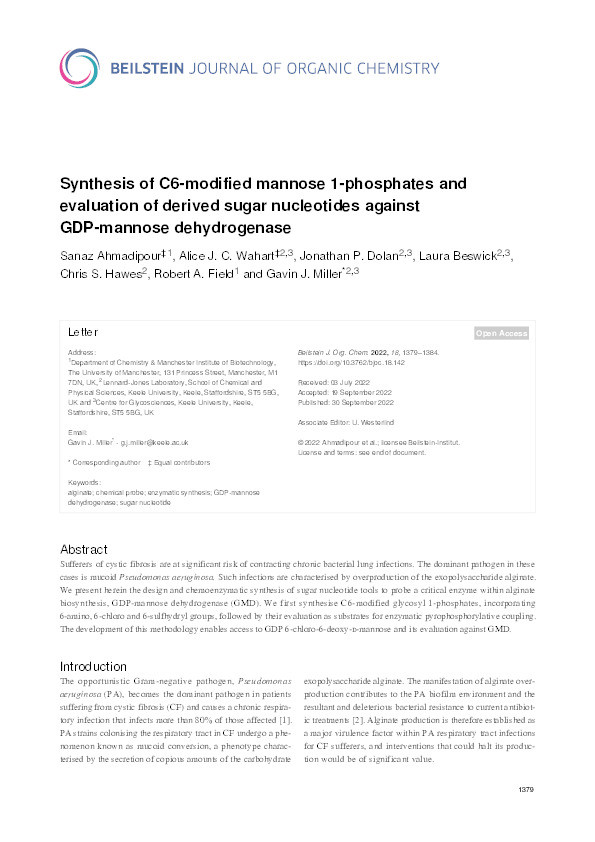 Authors
Abstract
Sufferers of cystic fibrosis are at significant risk of contracting chronic bacterial lung infections. The dominant pathogen in these cases is mucoid Pseudomonas aeruginosa. Such infections are characterised by overproduction of the exopolysaccharide alginate. We present herein the design and chemoenzymatic synthesis of sugar nucleotide tools to probe a critical enzyme within alginate biosynthesis, GDP-mannose dehydrogenase (GMD). We first synthesise C6-modified glycosyl 1-phosphates, incorporating 6-amino, 6-chloro and 6-sulfhydryl groups, followed by their evaluation as substrates for enzymatic pyrophosphorylative coupling. The development of this methodology enables access to GDP 6-chloro-6-deoxy-?-mannose and its evaluation against GMD.
Files
You might also like
Downloadable Citations