Prognostic factors associated with outcome following an epidural steroid injection for disc-related sciatica: a systematic review and narrative synthesis.
Nagington, A; Foster, NE; Snell, KIE; Konstantinou, K; Stynes, S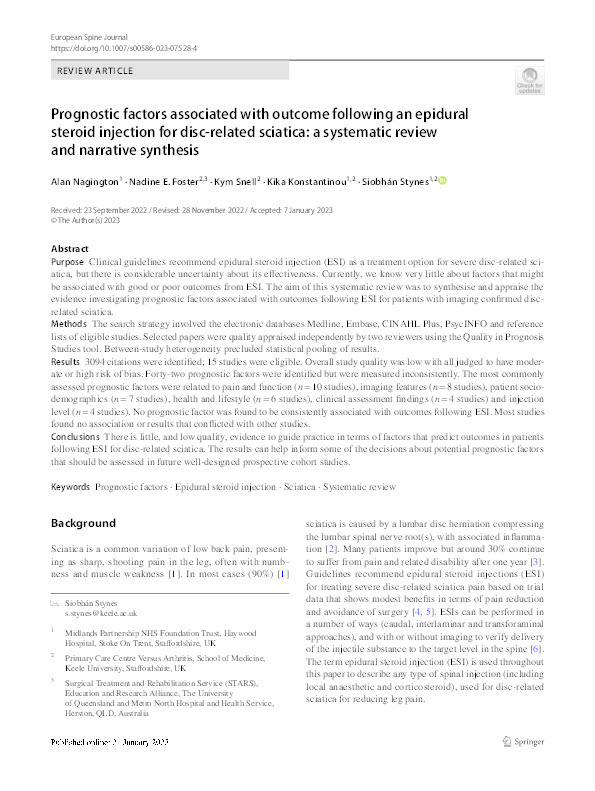 Authors
Abstract
PURPOSE: Clinical guidelines recommend epidural steroid injection (ESI) as a treatment option for severe disc-related sciatica, but there is considerable uncertainty about its effectiveness. Currently, we know very little about factors that might be associated with good or poor outcomes from ESI. The aim of this systematic review was to synthesise and appraise the evidence investigating prognostic factors associated with outcomes following ESI for patients with imaging confirmed disc-related sciatica. METHODS: The search strategy involved the electronic databases Medline, Embase, CINAHL Plus, PsycINFO and reference lists of eligible studies. Selected papers were quality appraised independently by two reviewers using the Quality in Prognosis Studies tool. Between-study heterogeneity precluded statistical pooling of results. RESULTS: 3094 citations were identified; 15 studies were eligible. Overall study quality was low with all judged to have moderate or high risk of bias. Forty-two prognostic factors were identified but were measured inconsistently. The most commonly assessed prognostic factors were related to pain and function (n?=?10 studies), imaging features (n?=?8 studies), patient socio-demographics (n?=?7 studies), health and lifestyle (n?=?6 studies), clinical assessment findings (n?=?4 studies) and injection level (n?=?4 studies). No prognostic factor was found to be consistently associated with outcomes following ESI. Most studies found no association or results that conflicted with other studies. CONCLUSIONS: There is little, and low quality, evidence to guide practice in terms of factors that predict outcomes in patients following ESI for disc-related sciatica. The results can help inform some of the decisions about potential prognostic factors that should be assessed in future well-designed prospective cohort studies.
Files
You might also like
Downloadable Citations