World Federation for Interventional Stroke Treatment (WIST) multispecialty training guidelines for endovascular stroke intervention
Roffe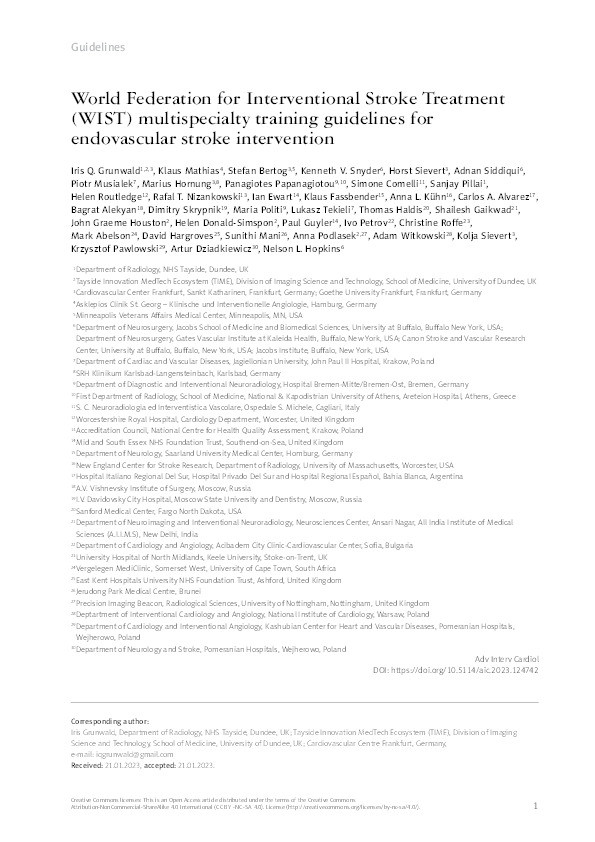 Authors
Abstract
Introduction: Today, endovascular treatment (EVT) is the therapy of choice for strokes due to acute large vessel occlusion, irrespective of prior thrombolysis. This necessitates fast, coordinated multi-specialty collaboration. Currently, in most countries, the number of physicians and centres with expertise in EVT is limited. Thus, only a small proportion of eligible patients receive this potentially life-saving therapy, often after significant delays. Hence, there is an unmet need to train a sufficient number of physicians and centres in acute stroke intervention in order to allow widespread and timely access to EVT.

Aim: To provide multi-specialty training guidelines for competency, accreditation and certification of centres and physicians in EVT for acute large vessel occlusion strokes. Material and methods: The World Federation for Interventional Stroke Treatment (WIST) consists of experts in the field of endovascular stroke treatment. This interdisciplinary working group developed competency – rather than time-based – guidelines for operator training, taking into consideration trainees' previous skillsets and experience. Existing training concepts from mostly single specialty organizations were analysed and incorporated.

Results: The WIST establishes an individualized approach to acquiring clinical knowledge and procedural skills to meet the competency requirements for certification of interventionalists of various disciplines and stroke centres in EVT. WIST guidelines encourage acquisition of skills using innovative training methods such as structured supervised high-fidelity simulation and procedural performance on human perfused cadaveric models.

Conclusions: WIST multispecialty guidelines outline competency and quality standards for physicians and centres to perform safe and effective EVT. The role of quality control and quality assurance is highlighted.
| | |
| --- | --- |
| Acceptance Date | Jan 21, 2023 |
| Publication Date | Feb 1, 2023 |
| Journal | Advances in Interventional Cardiology |
| Print ISSN | 1734-9338 |
| Electronic ISSN | 1897-4295 |
| Publisher | Termedia Publishing |
| Peer Reviewed | Peer Reviewed |
| Volume | 19 |
| Issue | 1 |
| Pages | 6-13 |
| DOI | https://doi.org/10.5114/aic.2023.124742 |
| Keywords | stroke, acute stroke, ischaemic stroke, mechanical thrombectomy, acute stroke intervention |
| Publisher URL | https://www.termedia.pl/World-Federation-for-Interventional-Stroke-Treatment-WIST-multispecialty-training-guidelines-for-endovascular-stroke-intervention,35,50069,1,1.html |
Files
You might also like
Downloadable Citations