Comparison of care and outcomes for myocardial infarction by heart failure status between United Kingdom and Japan.
Rashid; Mamas; Dafaalla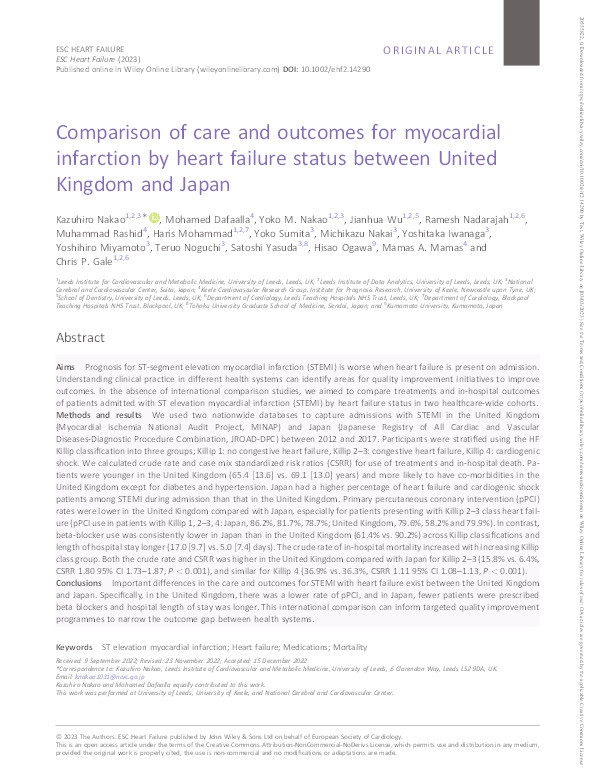 Authors
Abstract
AIMS: Prognosis for ST-segment elevation myocardial infarction (STEMI) is worse when heart failure is present on admission. Understanding clinical practice in different health systems can identify areas for quality improvement initiatives to improve outcomes. In the absence of international comparison studies, we aimed to compare treatments and in-hospital outcomes of patients admitted with ST elevation myocardial infarction (STEMI) by heart failure status in two healthcare-wide cohorts. METHODS AND RESULTS: We used two nationwide databases to capture admissions with STEMI in the United Kingdom (Myocardial ischemia National Audit Project, MINAP) and Japan (Japanese Registry of All Cardiac and Vascular Diseases-Diagnostic Procedure Combination, JROAD-DPC) between 2012 and 2017. Participants were stratified using the HF Killip classification into three groups; Killip 1: no congestive heart failure, Killip 2-3: congestive heart failure, Killip 4: cardiogenic shock. We calculated crude rate and case mix standardized risk ratios (CSRR) for use of treatments and in-hospital death. Patients were younger in the United Kingdom (65.4 [13.6] vs. 69.1 [13.0] years) and more likely to have co-morbidities in the United Kingdom except for diabetes and hypertension. Japan had a higher percentage of heart failure and cardiogenic shock patients among STEMI during admission than that in the United Kingdom. Primary percutaneous coronary intervention (pPCI) rates were lower in the United Kingdom compared with Japan, especially for patients presenting with Killip 2-3 class heart failure (pPCI use in patients with Killip 1, 2-3, 4: Japan, 86.2%, 81.7%, 78.7%; United Kingdom, 79.6%, 58.2% and 79.9%). In contrast, beta-blocker use was consistently lower in Japan than in the United Kingdom (61.4% vs. 90.2%) across Killip classifications and length of hospital stay longer (17.0 [9.7] vs. 5.0 [7.4] days). The crude rate of in-hospital mortality increased with increasing Killip class group. Both the crude rate and CSRR was higher in the United Kingdom compared with Japan for Killip 2-3 (15.8% vs. 6.4%, CSRR 1.80 95% CI 1.73-1.87, P < 0.001), and similar for Killip 4 (36.9% vs. 36.3%, CSRR 1.11 95% CI 1.08-1.13, P < 0.001). CONCLUSIONS: Important differences in the care and outcomes for STEMI with heart failure exist between the United Kingdom and Japan. Specifically, in the United Kingdom, there was a lower rate of pPCI, and in Japan, fewer patients were prescribed beta blockers and hospital length of stay was longer. This international comparison can inform targeted quality improvement programmes to narrow the outcome gap between health systems.
Files
You might also like
Downloadable Citations