Intermediate care in caring for dementia, the point of view of general practitioners: A key informant survey across Europe.
Dibao-Dina, C; Oger, C; Foley, T; Torzsa, P; Lazic, V; Kreitmayer Peštiae, S; Adler, L; Kareli, A; Mallen, C; Heaster, C; Dumitra, G; Kurpas, D; Viegas, R; Giezendanner, S; Tkachenko, V; De Lepeleire, J; Falanga, R; Missiou, A; Jennings, A; Petrazzuoli, F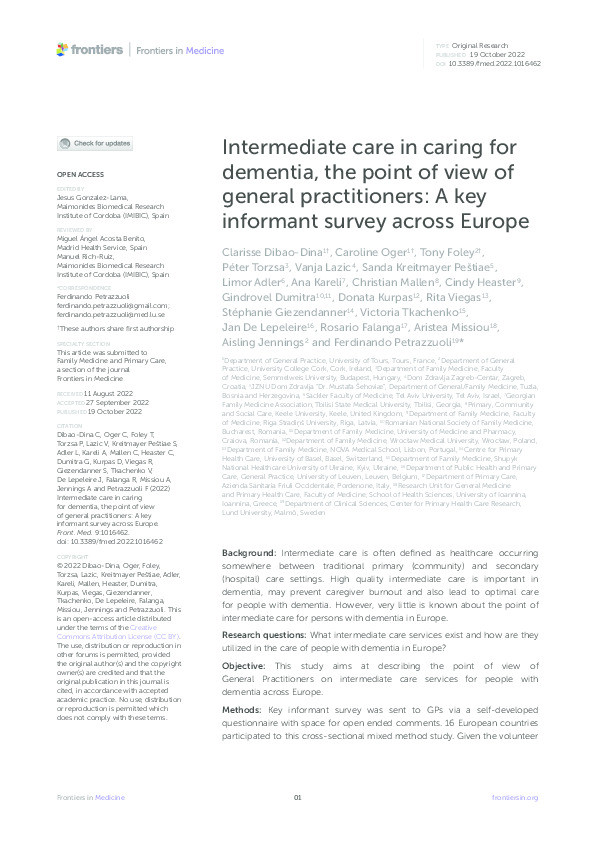 Authors
Abstract
Background: Intermediate care is often defined as healthcare occurring somewhere between traditional primary (community) and secondary (hospital) care settings. High quality intermediate care is important in dementia, may prevent caregiver burnout and also lead to optimal care for people with dementia. However, very little is known about the point of intermediate care for persons with dementia in Europe. Research questions: What intermediate care services exist and how are they utilized in the care of people with dementia in Europe? Objective: This study aims at describing the point of view of General Practitioners on intermediate care services for people with dementia across Europe. Methods: Key informant survey was sent to GPs via a self-developed questionnaire with space for open ended comments. 16 European countries participated to this cross-sectional mixed method study. Given the volunteer nature of the study, no minimum sample size requirements were applied to participation. Convenience sampling technique was used to address variations due to regional variations and regulations within the same country. Descriptive analyses of all intermediate care facilities groups by countries were performed. Qualitative analyses approach was used for the optional-free text to exemplify and/or complete the reasons contained in the closed response categories. Results: The questionnaire was sent to 16 European countries. 583 questionnaires were analyzed. The responding physicians were 48 (± 11) years old on average and they had been in practice for an average of 18 (+ /11) years. The types of intermediate care considered were integrated at-home services, respite and relief services, day care centers and nursing homes. Their availability was considered very inhomogeneous by the majority of respondents. The main benefits of intermediate care cited were better medical care for the patient (78%), better quality of life for the caregiver (67%), prevention of the caregiver burden (73%) and a break for the caregiver (59%). The reported difficulties were: accessing these facilities due to limited financial support (76%) and cumbersome administrative procedures (67%). Many other facets of our findings were captured in the qualitative themes that emerged. Conclusion: Intermediate care in Europe is diverse and heterogeneous. Major concerns of GPs are about the cost issues and the cumbersome administrative procedures to access them.
Files
You might also like
Downloadable Citations