Improving uptake of Fracture Prevention drug treatments: a protocol for Development of a consultation intervention (iFraP-D).
Paskins, Zoe; Bullock, Laurna; Crawford-Manning, Fay; Cottrell, Elizabeth; Fleming, Jane; Leyland, Sarah; Edwards, John James; Clark, Emma; Thomas, Simon; Chapman, Stephen Robert; Ryan, Sarah; Lefroy, Janet E; Gidlow, Christopher J; Iglesias, C; Protheroe, Joanne; Horne, Robert; O'Neill, Terence W; Mallen, Christian; Jinks, Clare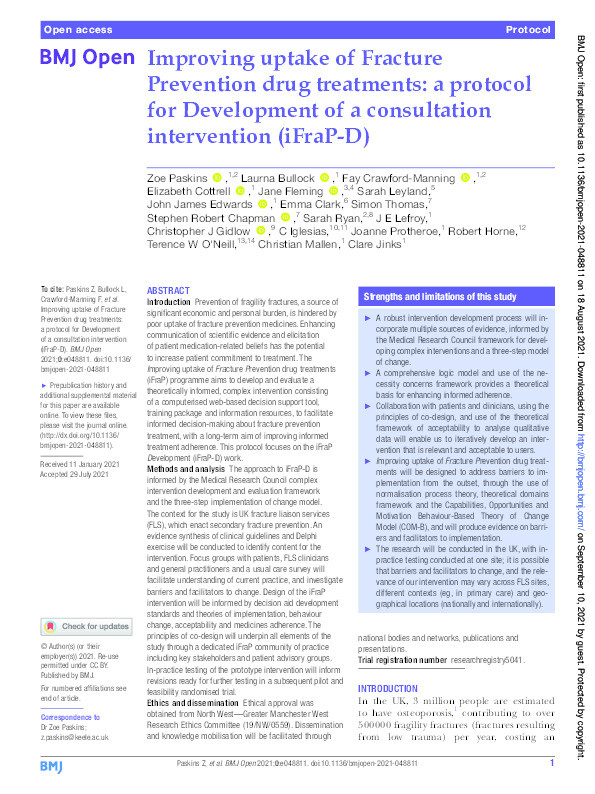 Authors
Abstract
INTRODUCTION: Prevention of fragility fractures, a source of significant economic and personal burden, is hindered by poor uptake of fracture prevention medicines. Enhancing communication of scientific evidence and elicitation of patient medication-related beliefs has the potential to increase patient commitment to treatment. The Improving uptake of Fracture Prevention drug treatments (iFraP) programme aims to develop and evaluate a theoretically informed, complex intervention consisting of a computerised web-based decision support tool, training package and information resources, to facilitate informed decision-making about fracture prevention treatment, with a long-term aim of improving informed treatment adherence. This protocol focuses on the iFraP Development (iFraP-D) work. METHODS AND ANALYSIS: The approach to iFraP-D is informed by the Medical Research Council complex intervention development and evaluation framework and the three-step implementation of change model. The context for the study is UK fracture liaison services (FLS), which enact secondary fracture prevention. An evidence synthesis of clinical guidelines and Delphi exercise will be conducted to identify content for the intervention. Focus groups with patients, FLS clinicians and general practitioners and a usual care survey will facilitate understanding of current practice, and investigate barriers and facilitators to change. Design of the iFraP intervention will be informed by decision aid development standards and theories of implementation, behaviour change, acceptability and medicines adherence. The principles of co-design will underpin all elements of the study through a dedicated iFraP community of practice including key stakeholders and patient advisory groups. In-practice testing of the prototype intervention will inform revisions ready for further testing in a subsequent pilot and feasibility randomised trial. ETHICS AND DISSEMINATION: Ethical approval was obtained from North West-Greater Manchester West Research Ethics Committee (19/NW/0559). Dissemination and knowledge mobilisation will be facilitated through national bodies and networks, publications and presentations. TRIAL REGISTRATION NUMBER: researchregistry5041.
Files
You might also like
Downloadable Citations