Post-operative exercises after breast cancer surgery: Results of a RCT evaluating standard care versus standard care plus additional yoga exercise
Solis-Trapala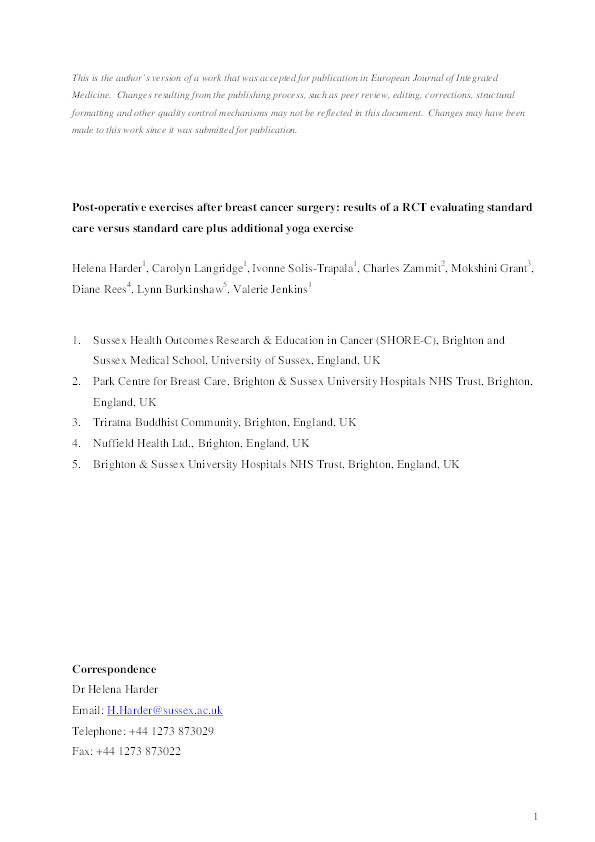 Authors
Abstract
Introduction
There is a lack of standardisation in the guidelines for post-operative exercises following breast cancer surgery. Adherence to exercise programmes is low, and complementary therapies such as yoga often appeal to patients and may encourage practise. A step-by-step guide to yoga DVD was evaluated in addition to the standard care exercises (SC) compared to SC alone.

Methods
Women with early-stage breast cancer were randomised to SC plus or minus a yoga DVD for 10-weeks. Patient-reported outcomes were collected at baseline, 10 weeks and 6 months. The primary study-endpoint was the Trial Outcome Index (TOI) of the Functional Assessment of Cancer Treatment-Breast; a recognised quality of life (QoL) tool with an arm morbidity subscale (FACT-B+4).

Results
92/103 (89%) women were randomised to the study. The SC group reported practising post-operative exercises more often than the yoga DVD group. There was a 69% improvement from baseline in FACT-B+4 TOI, which included an arm subscale, at 10 weeks and 6 months in the SC group. This was 62% and 81% respectively for the yoga DVD group. Numbness in the affected arm was greater in the SC group (OR = 2.5, 95% CI: 1.1, 5.6) and in patients receiving chemotherapy (OR = 2.17, 95% CI: 1, 4.6). Despite no group differences, 74% of women would definitely recommend following the yoga DVD after surgery.

Conclusions
Practising post-operative exercises does improve arm and shoulder morbidity following breast cancer surgery. The addition of a self-practise general yoga programme was well received and appeared to improve QoL at 6 months.
Files
You might also like
Downloadable Citations